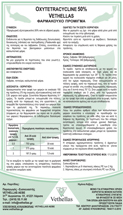 CODE: 22.01.002 (2Kg)
22.01.003 (25Kg)
COMPOSITION: Oxytetracycline Hydrochloride 50% w/w on inactive carrier.
PHARMACEUTICAL FORM: Medicated premix.
PROPERTIES:
Oxytetracylcine hydrochloride, is a broad spectrum bacteriostatic antibiotic that belongs to the group of tetracyclines, which are broad-spectrum antibiotics with activity against gram-positive and gram-negative bacteria. The mechanism of action is the same as for all tetracyclines and is through interference with protein synthesis
INDICATIONS:
Fish*: It is indicated for the control of furunculosis, vibriosis and Pasteurellosis of gilthead seabream and sea bass. It is also indicated for the control of bacterial infections in ornamental fish.
CONTRAINDICATIONS:
It should not be administered in cases with known hypersensitivity to the active ingredient.
UNDESIRABLE EFFECTS:
Not mentioned
DOSAGE:
Fish*: *: It is used on fish feed at a ratio of 150mg product (75mg of active oxytetracycline) per kg BW per day.
STORAGE-SHELF LIFE:
The product, sealed in its original package, should be stored in a dry place, protected from light at a temperature below 25° C. The product in its original package well sealed is stable for 24 months from the production date. When used in the pelleted form, the mixture can be subjected to steam for 5 minutes and pelleted at temperatures up to 70° C. In the pelleted form, the product can be stable for 3 months from the production date. Feed that is mixed by hand should be consumed immediately and not be stored.
PACKAGING:
Paper box x 8 plastic polyethylene sacks x 2Kg.
Paper bag with inner PE lining, 25Kg.
*The information provided for Oxytetracycline 50% Vethellas may differ from country to country according to the national registrationς.